DON'T GET LEFT BEHIND!
Get Up To Speed On
The
New

Industry Standard
For The 21st Century
Read This Exclusive FREE Special Report And Discover The Magic Of Streamlining Your Media Kit Today!

Fill in your first name and email below and receive your Special Report right NOW!
(We hate spam, we will never share or sell your email address)
In the ultra-competitive world of professional Speaking, Training, Coaching & Consulting, talent and ambition are not always enough. You need solutions that can help you create and maintain a smooth, efficient, and profitable business. InstantMediaKit.com® is the solution you've been waiting for!
InstantMediaKit.com® provides the simplest quickest, most cost-effective way to store, organize and distribute all of your key marketing collateral found in a media kit (and more) - in one place, online, for easy access and download for your agent, publicist, clients and the media.
INSTANTMEDIAKIT.COM® IS THE TOTAL ORGANIZATION & DISTRIBUTION SOLUTION FOR YOUR MARKETING ASSETS!
Plug & Play: Just upload your photos, bios, videos, etc. and your very own "customized" online media kit is instantly generated! And, it's totally green!
BENEFITS
With InstantMediaKit.com® you can:
SAVE TIME & $$$$ - no need to hire and manage a web designer to custom-make your online media kit!

SAVE MORE TIME AND MORE $$$$ - no need for staff to compile and send out collateral. Streamline transferring marketing materials to your team, clients and the media by sending them to one place to acquire everything they need from you!

DELIVER THE CONTENT YOU NEED FAST with complete competence and confidence – eliminate the headache of managing all the details, dealing with mindless administrative chores, time-consuming stress and other hassles of delivering your marketing assets piece-meal via email or worse...via snail mail!

UPLOAD IT ONCE and use it often!

CREATE A PROFESSIONAL, EFFICIENT, USER-FRIENDLY WEB PRESENCE that attracts and impresses clients & the media!

ENSURE THAT YOU ARE REPRESENTED IN THE WAY YOU WANT TO BE by providing media-ready marketing collateral that YOU choose rather than having clients and the media randomly pull old photos or out-of-date bios off the internet!

INCREASE REPEAT BUSINESS - By improving your client's experience gathering all of your collateral and key docs, they'll be more apt to think of you next time they're looking to hire a speaker for their events!

INCREASE MORE MEDIA ATTENTION - When the media comes to your InstantMediaKit® and sees how easy it is to get everything they need in a quick and easy fashion without repeated calls or emails to you, no doubt they'll come to you next time they're in a pinch for a story!

LEARN EXACTLY WHAT YOU NEED TO HAVE IN YOUR MEDIA KIT in order to be ready for hire and for the media!

FOCUS ON WHAT YOU DO BEST – Streamlining this aspect of your business will allow you to focus on what you came here to do...deliver value and make a difference! And, make your passion a profitable one!
VIRTUAL TOUR OF THE INSTANT MEDIA KIT
VIRTUAL TOUR OF THE IMK MEMBERS AREA
SITE DETAILS
EVERYTHING YOU NEED IN A MEDIA KIT & MORE!
BUILD IT INSTANTLY PIECE BY PIECE
PHOTOS/BIOS:
CHALLENGES:
You arrive at an event, only to experience total embarrassment as your photo that's been plastered all over the room is from 1984! And worse, so is your bio that represents you as being a newly married man and a doctorate student with only a year to go before graduating college. Too bad you've been divorced for 10 years and you dropped out of grad school 2 semesters before graduation!
- Or -
Your assistant sent the wrong resolution of your photo to your client so while the other speakers' photos at the event are crisp and clear yours is blurry and makes you look like an amateur.
SOLUTION:
Ensure that you are represented in the way YOU want to be, by providing media-ready marketing collateral that YOU choose rather than having clients and the media randomly pull old photos or out-of-date bios off the internet.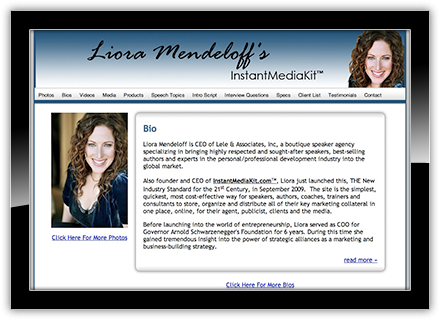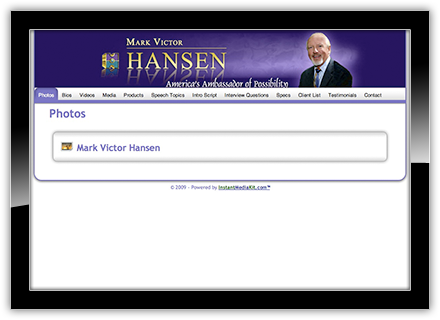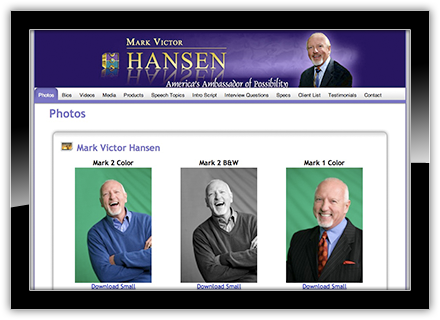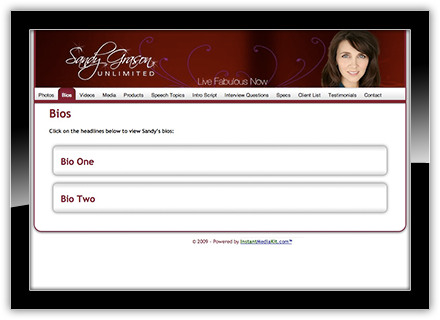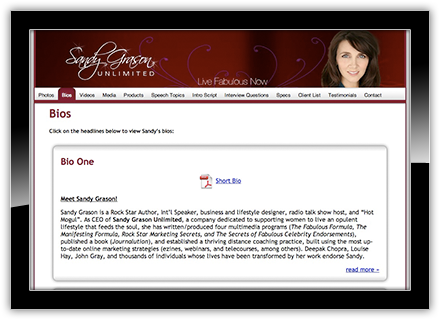 VIDEOS:
CHALLENGES:
A potential client has heard that you're a great speaker but wants to see it for themselves. You don't have an immediate way to show them your demo reel so he succumbs to searching you out on YouTube. Unfortunately, the first video he pulls up is the one of you at Fred's New Year's Eve party dancing on the table. Needless to say, you lose the job.
- Or -
You have a potential speaking gig in Russia. You spend $85 to overnight express your press kit, which ends up going through customs, gets ripped open, the dvd is damaged and now you're stuck!
- Or -
It's President's Day in the States and your potential client requests your demo reel. You decide to email it but the file is too big to send and keeps crashing your computer. You now have to mail them a DVD of your video but because it's a holiday, the post office isn't open for another 2 days! Your competition, however sends the client a link to their InstantMediaKit® and is snatched up for the job on the spot.
SOLUTION:
With one URL and a click of a button, your potential client can go to your InstantMediaKit®, where they can view your demo reel, sample keynote and any other video footage you have posted.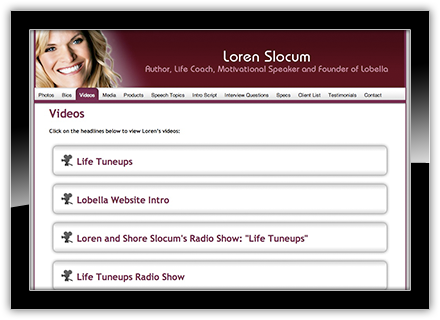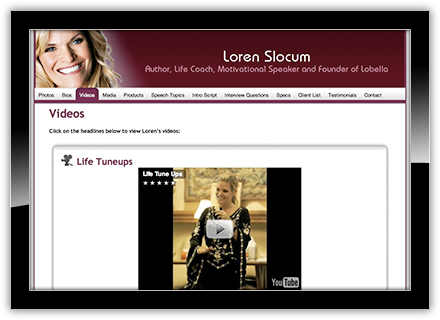 MEDIA:
CHALLENGES:
You've been fortunate that you've had some media coverage but you haven't had a place to track it or store the actual video, audio or print files. Subsequently, you haven't been able to accurately represent yourself such that others will want to capture your story too.
- Or -
You're asked to deliver a press release in 24 hrs but your publicist is nowhere to be found. You lose the coverage.
- Or -
You're about to launch an event and want to do a big PR blitz around it. Unbeknownst to you, your fax machine has malfunctioned and the press release your assistant thought she'd sent out to all the media outlets never actually arrived. Subsequently, no media shows up at your event.
SOLUTION:
Media professionals can access your press release straight off your online media kit without a hitch! As such, the media outlets have everything they need to cover your event and get you free advertising!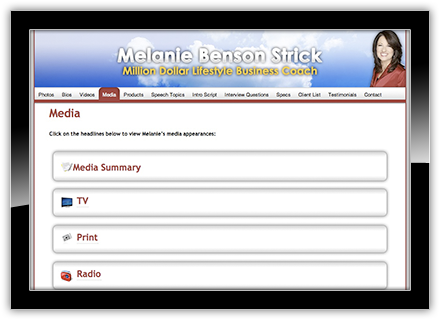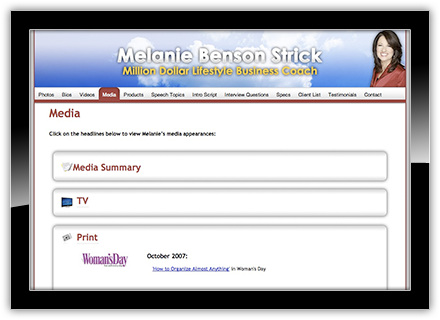 PRODUCTS:
CHALLENGE:
A client is looking to hire you and you neglect to mention that you have products for sale. There's no mention of it in your physical media kit so you get hired but no product is sold.
SOLUTION:
A client visits your InstantMediaKit® to pull down some of your marketing assets, sees your product page and decides to pre-purchase 500 copies of your book for each of their top sales people to read before you speak at their annual conference. You haven't even landed at the event yet and you've already made a profit plus your speaking fee!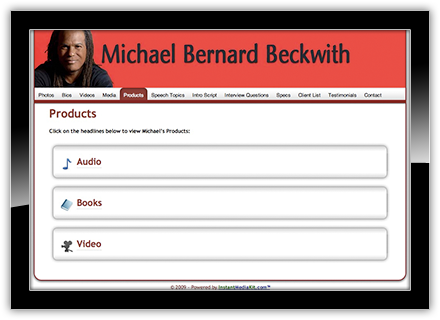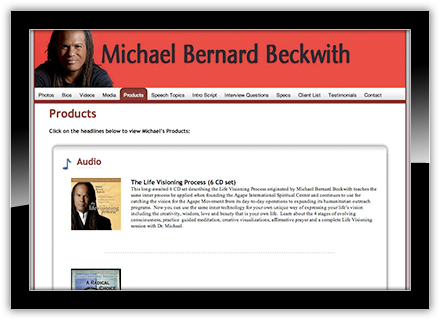 SPEECH TOPICS:
CHALLENGE:
A client has hired you to speak about team building at their local training. You don't have your speech topics organized on your website so the client doesn't realize you also speak about business development, the topic they're seeking for their annual conference. As such, you're hired for the gig in Cleveland but miss out on speaking at their international conference in Zurich later that year.
SOLUTION:
A client is perusing your Speech topics page in your InstantMediaKit® and notices that you offer another topic that would be perfect for the company's regional trainings. They not only hire you to speak at their national conference but now they book you to do their 6 regional trainings across the globe over the next 6 months!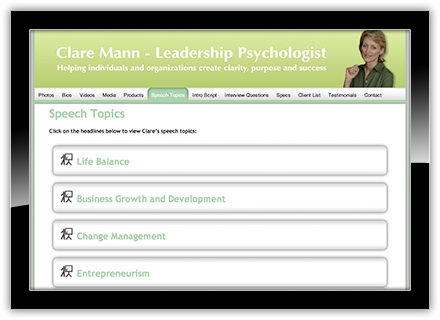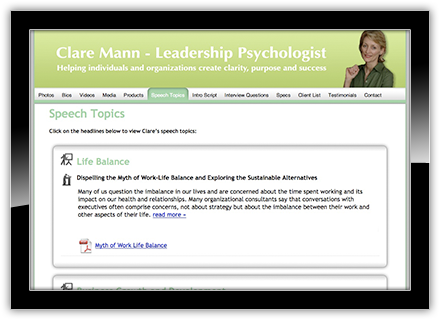 INTRO SCRIPTS:
CHALLENGE:
You're waiting in the wings as your client introduces you to a room of 200 executives. You cringe as you listen to him reading an old intro script and you kick yourself for not confirming with your assistant that he'd sent out the most recent one. Now you're stuck having to self-promote yourself from the stage, instantly losing the leverage and credibility that would have come with a trusted third party "bragging" about you.
- Or -
The host ends up winging your introduction because they weren't given a script. He has completely misrepresented who you are and neglected to mention your greatest accomplishments, including the launch of your new book. You're now stuck having to sell yourself to the audience.
SOLUTION:
Your client simply went to your InstantMediaKit®, where they pulled down your most recent intro script and you were represented exactly as you wanted. You've been positioned as the expert and walk onto the stage having already earned the respect of the audience.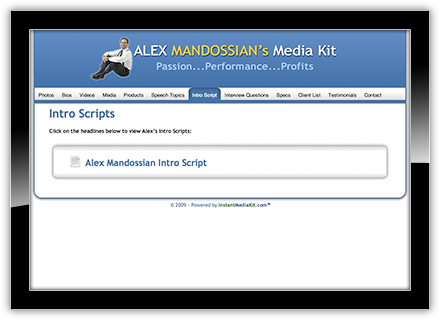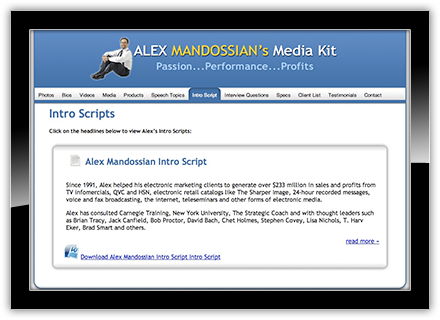 INTERVIEW QUESTIONS:
CHALLENGE:
You show up to film a TV segment and the host, having not received your interview questions in advance, asks you questions that leave you fumbling for an answer. You leave embarassed and ashamed knowing that the chances of you being called back are slim to none.
SOLUTION:
The producer of the TV show pulls down your interview questions from your InstantMediaKit®, which of course, you're prepared to answer and the interview goes off without a hitch! They're so impressed with your quick and thorough responses that they call you back next time they're in a jam for a segment.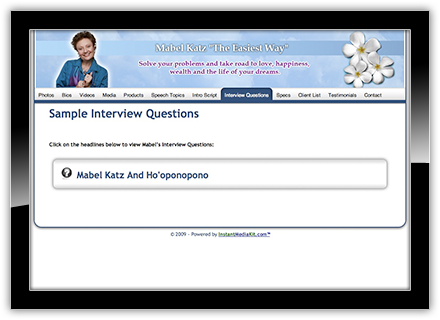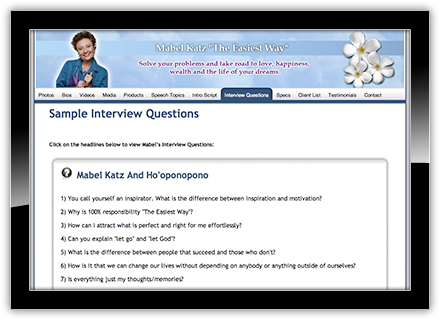 SPECS:
CHALLENGES:
You arrive the night before your speaking event and are invited to a VIP dinner at the CEO's private residence. You don't think to mention that you're a vegetarian and are left embarrassed and potentially hungry when the CEO brags that his wife personally cooked the roasted lamb that was served. Because no one had provided your client with this important dietary requirement, you are left having to awkwardly request a plate of vegetables instead.
- Or -
You are nervous to begin with that you've decided to do a live demonstration of your new website at a conference. To make things worse, when you arrive, it turns out that the room has no internet connectivity available…something that you thought had been covered in an email with the client.
SOLUTION:
Your client has been to your InstantMediaKit®, has gone to the Specs section and retrieved all of your requirements for A/V, travel and other key criteria. So now when you arrive at the event, everything you requested has been put into place. Feeling like you are totally taken care of, you are left confident to deliver a stellar presentation.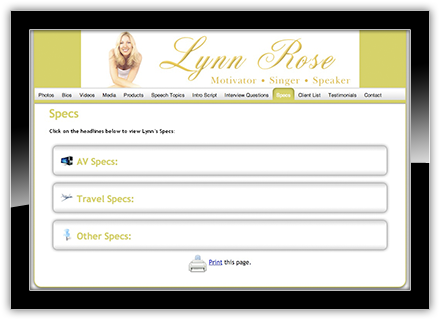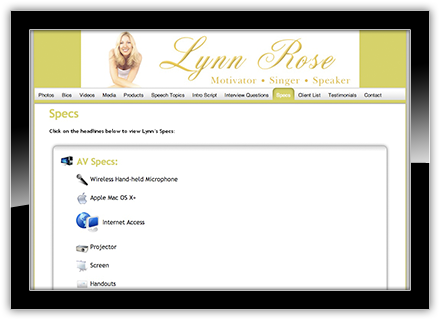 CLIENT LIST:
CHALLENGE:
A potential client is perusing your website but doesn't see a listing of your current and past clients. This is their first experience with you and want to feel confident that you have spoken within their industry before. They are left feeling unsure if you are the one for the job, given that they don't see any history of your experience, nor do they have any references to call. Needless to say, you don't get hired.
SOLUTION:
A potential client wants to see who else you've worked with to see if you might be a good fit for them. They go to the Client List section of your InstantMediaKit® and are reassured when they see your impressive list of clients. They feel confident that you know what you're doing and move the process of hiring you forward.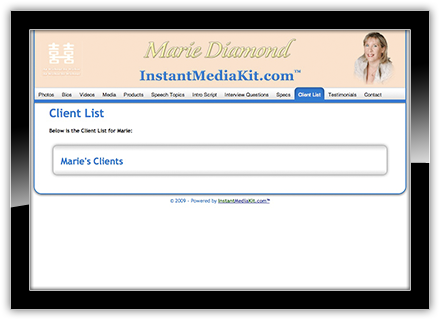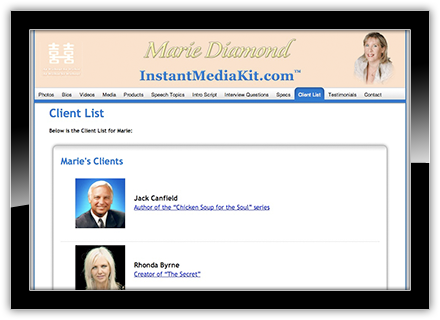 TESTIMONIALS:
CHALLENGE:
The media is looking for some buzz on you and wants to know that you can deliver something of value to their viewers. They peruse your website and find lots of information about you but little to none about what your clients are saying about you. They feel hesitant to promote someone that they're not sure can engage their audience and deliver proven results. Their ambivalence leads them to choose another speaker who provides rave reviews about their work.
SOLUTION:
The editor of a big-time publication checks out the "Testimonials" section of your InstantMediaKit and is blown away with what people are saying about you. They decide to do a series of articles featuring you and promoting the difference that you have made in the lives of your clients. The articles post, it drives a ton of traffic to your website and your sales 10-fold that quarter. Plus, you've now got some more great coverage to add to the Media section of your InstantMediaKit®!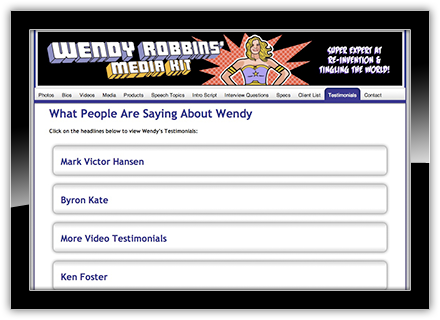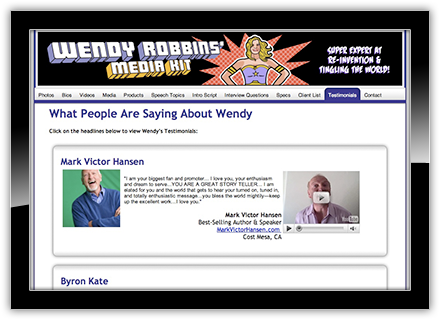 CONTACT:
CHALLENGE:
A top producer is on a tight deadline looking to do a story on you but the number on the website leads them to a voicemail and when they try emailing you, you're email autoresponder says that you're out of town for another week. They move on to someone more accessible.
SOLUTION:
That same producer visits the Contact page of your InstantMediaKit® and is able to submit their media inquiry on the spot. They receive word back from your team right away as the submission form links directly to your publicist who books the interview. (*NOTE* Booking and Media submission forms are only available to certain membership levels.)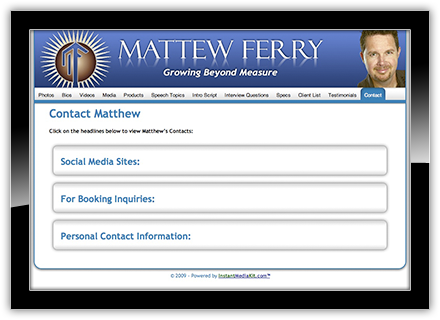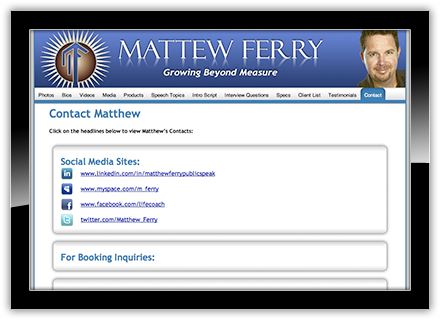 Raving Fans
Rick Frishman
Publisher, Morgan James Publishing
Founder, Planned TV Arts
Best-selling Author & Speaker
New York, NY
RickFrishman.com
Mark Victor Hansen
Speaker &
Best-Selling Author
Chicken Soup For The Soul
One-Minute Millionaire
Costa Mesa, CA
MarkVictorHansen.com
Cydney O'Sulivan
Money & Business Coach & Author
Sydney, Australia
MsIndependence.com
Frank Nein
Co-Founder, SVP of Business Development & Marketing Communications David Caruso Television
Las Vegas, NV
DavidCarusoTelevision.tv
Robert Allen
Speaker &
Best-Selling Author
Multiple Streams of Income
No Money Down
San Diego, CA
RobertAllen.com
Mabel Katz
International Speaker & Author
Los Angeles, CA
MabelKatz.com
BusinessByYou.com
Alex Gerasimenko
Best-Selling Author, Speaker & Coach
Moscow, Russia
Wendy Robbins
Speaker, Author, Inventor, Radio Show Host
Taos, NM
NowhereToMillionaire.com
Alex Herrera
Executive Assistant & Operations Coordinator for Speaker Matthew Ferry
& Beta-tester (Google, Microsoft & Others)
Irvine, CA
Lynn Rose
International Motivator, Singer, Author, TV & Radio Host
Marina Del Rey, CA
LynnRose.com
Clare Mann
International Speaker & Author
Sydney, Australia
ClareMann.com
Jayme Check
Entrepreneur, Speaker & Best-Selling Author
The New Leader's 100 Day Action Plan
Santa Monica, CA
jcheck@1QuantumLeap.com
Caitriona Reed
International Speaker, Author, Performance Coach & NLP Trainer
Southern California
ManzanitaVillage.org
Tess Cacciatore
Inspirational Speaker & Social Entrepreneur
Burbank, CA
WorldTrust.org
To see even more testimonials click here.
COMPARE FEATURES:
Determine Your Media Kit Needs
When it comes to choosing the right InstantMediaKit® membership level, simply determine what you need to get started by using the features chart below. Keep in mind, you can always upgrade your plan at any time.
| | | STARTER | PROFESSIONAL | CELEBRITY |
| --- | --- | --- | --- | --- |
| BASIC FEATURES | | | | Coming Soon! |
| | 24/7 Access To Edit Site | * | * | * |
| | Unique URL | * | * | * |
| | Customized Template Banner | * | * | * |
| | Tracking Checklist | * | * | * |
| | Optional Tabs | * | * | * |
| | Customized Color Scheme | * | * | * |
| | Download Key Pieces of Your IMK | * | * | * |
| | Prioritize Content Order | * | * | * |
| | Live Links Into Any Website From Your IMK | * | * | * |
| | Free Hosting | * | * | * |
| | Free Email Support | * | * | * |
| | Free Back-up | * | * | * |
| | SEO-Friendly Programming | * | * | * |
| | | STARTER | PROFESSIONAL | CELEBRITY |
| ADVANCED FEATURES | | | | Coming Soon! |
| | Upload Photos | Up to 3 | Up to 10 | Unlimited |
| | Upload Video | Up to 3 | Up to 10 | Unlimited |
| | Upload Media | Up to 3 | Up to 10 | Unlimited |
| | Upload Testimonials | Up to 3 | Up to 10 | Unlimited |
| | Upload Own Art Work for Banner | | * | * |
| | Showcase & Link Your Products to Your Shopping Cart for Purchase | | * | * |
| | Password Protection | | * | * |
| | Custom Domain Name | | * | * |
PRICING:
STARTER
PROFESSIONAL
CELEBRITY
PRICING OPTIONS
Monthly
Annual
Pricing
Only
TBA
Annually



TWO MONTHS FREE!

TBA

Special Launch Offer


Limited Time Only
One-Time Set-up Fee
$197
FREE
$197
FREE
TBA
100% MONEY-BACK GUARANTEE:

"I understand that if I'm not completely satisfied with InstantMediaKit.com I can cancel service within the first 30-days of joining with no further obligations or commitments on my part and I receive 100% of my original investment back."
FAQs

Getting Started:

Features:

General:

Technical:

Pricing & Billing: